Equity & Community Inclusion Team
Below you will find short narratives about our team in Equity & Community Inclusion. Visit us in Village C, Rooms 140, 141, and 142; and also in Student Services Building, Room 206.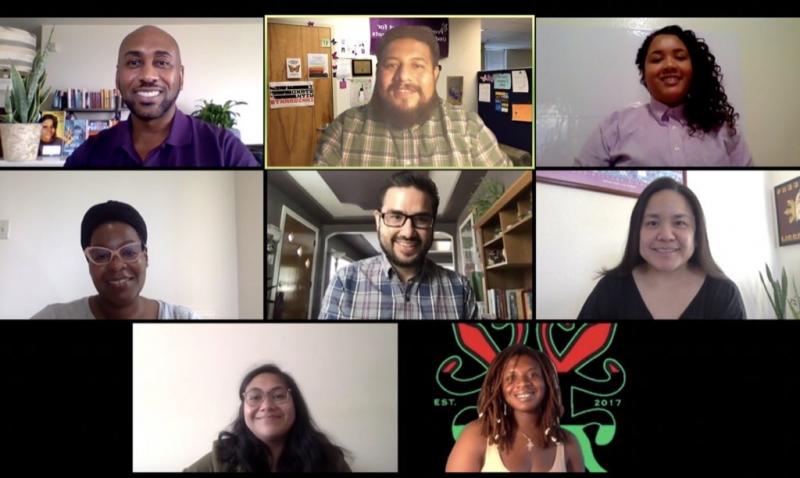 Associate Vice President, Division of Equity & Community Inclusion / Student Affairs & Enrollment Management
Dr. Frederick Smith serves as Associate Vice President, Equity & Community Inclusion. He joined SF State in July 2019. Prior to SF State, Fred worked at Cal State LA, where he served as the Director of the Cross Cultural Centers. He earned his doctorate in Educational Leadership for Social Justice at Loyola Marymount University in May 2018. His dissertation title is The Politics of Ethnic Studies, Cultural Centers, and Student Activism: The Voices of Black Women at the Academic Borderlands. 
Dr. Smith's research and professional interests focus on higher education and include: co-curricular learning experiences, the role of ethnic studies and cultural centers in student identity development and confidence building, campus climate experiences of historically marginalized and minoritized communities, retention and graduation of students of color in higher education (at Cal State LA, he initiated and led the Men of Color Success Network Initiative and the Women and Femmes of Color Annual Conference), and collaborations between student affairs and academic affairs staff and faculty for student success.  Dr. Smith brings rich experience developing collaborative programs, events, services, dialogues, and celebrations that bring the campus community together.
Outside of higher education, Fred is a novelist. His five novels, Busy Ain't The Half Of It, In Case You Forgot, Play It Forward, Right Side of the Wrong Bed (a Lambda Literary finalist), and Down For Whatever, focus on queer characters of color in Los Angeles.
Fred earned a Bachelor of Journalism degree in Television News and Reporting at the Missouri School of Journalism. He earned a Master of Education in Higher Education at Loyola University Chicago. Fred is originally from Detroit, Michigan.
Student Engagement Specialist, Black Unity Center; Coordinator, LGBTQIA+ Student Life
Bucket Manyweather is the Student Engagement Specialist for the Black Unity Center.  Bucket Manyweather (They/Them/Theirs) is a poet, educator, and academic who believes that community engagement is the foundation of personal and social development and self-actualization. Bucket holds a Masters of Higher Education / Student Affairs from the University of San Francisco (USF). They have taught Ethnic Studies courses at California State University East Bay, Nevada State College, and San Francisco State University (SFSU). They were given the honor of teaching a core course for SFSU's new Queer Studies minor within the Department of Race and Resistance Studies. Bucket taught Second Year Seminar and Critical Thinking in the College of Education and Leadership in Social Justice in the Leadership and Development program at the University of Nevada, Las Vegas. Bucket joined the Black Unity Center as a Student Engagement Specialist in 2018. In their spare time, they research the implementation of California Assembly Bill 1460, the CSU's requirement for mandatory Ethnic Studies.
Director - Black Unity Center (BUC)
Tarshel Beards serves as Director of the Black Unity Center (BUC). Tarshel is a Brooklyn Girl, by way of Chicago who is now in California and loving the weather. Her career spans higher education and non profit organizations doing community based communications and advocacy work. She also taught journalism and composition for ten years at Malcolm X College in Chicago. It was the mission of the Black Unity Center and the energy of student activists that inspired her to apply for the director position and come to SF State. Tarshel joined SF State in August 2019. Since then, she has been building the BUC brand, supporting students who utilize the BUC, collaborating with campus partners, and working on long term data driven strategies. 
Director, Diversity, Student Equity, and Interfaith Programs
Christian Lozano Cuellar joined SF State in July 2020, as Director of Diversity, Student Equity, and Interfaith Programs. The job portfolio includes: AB540 / Dream Resource Center, Interfaith Programs Unit, Latinx Student Services, and LGBTQIA+ Student Life. Prior to SF State, Christian served as Associate Director, Multicultural Affairs and Student Cultural Resource Centers at CSU Long Beach. Christian earned a Master of Education and Health Services degree at University of Dayton. He earned his Bachelor's degree in Business at Calumet College of St. Joseph in Indiana. Christian enjoys kayaking and spending time with his dog.
Administrative Analyst/Specialist I, Division of Equity & Community Inclusion 
Briana is the Administrative Analyst/Specialist I for the Division of Equity & Community Inclusion. Briana is an alum of California State University East Bay with a Bachelor's Degree in Communication and an emphasis in Public Relations. Born in San Jose, California, she has been a Bay Area native her whole life. During her time at CSUEB, she worked with the planning committee for Black Student Union, as well as personal outreach in the East Bay community. Fun Fact: Briana loves Afro beats and reggae; she can dance all night long.
Danille Hoffer serves as the Coordinator of Jewish Student Life and Interfaith Programs. Starting at SF State in August 2022, Danille seeks to create a space where Jews and anyone interested in Jewish topics can come for help, resources, and a sense of on-campus community. Danille completed her undergraduate degree at Queen's University, in Canada, focusing on History and Jewish Studies. In 2021, Danille achieved a Master of Public Administration and an MA in Hebrew & Judaic Studies at New York University.
Griselda Madrigal Lara was born in a small town in Michoacan, Mexico. Griselda migrated to California when she was eight years old and grew up in Sonoma County. Griselda holds a Bachelor of Arts in Chicana/o & Latina/o Studies and Master of Arts in Mexican American and Latina/o Studies from the University of Texas at Austin. She is a first-generation college graduate who is passionate about dismantling academic barriers for underserved students. In her free time, Griselda loves to create art, listen to audiobooks, and care for her pug Benita. 
Shannon Deloso is the Student Success Coordinator for AA&PI Student Services. She is a proud alumna of SF State and the first of her family to graduate college. Shannon chose this position because of the impact of Ethnic Studies and the Student Services on campus, like EOP and Project Connect. She graduated with her BA in Asian American Studies with a double minor in Education and Race & Resistance Studies. Shannon also holds a Master's in Education and a Social Studies credential from University of California, Los Angeles.
Prior to being in this position, Shannon taught Ethnic Studies and History to middle and high school throughout California for 5 years. She continues to have a strong commitment to advancing ethnic studies and providing student support within our school systems. She has co-created ethnic studies courses and programs for Ethnic Studies to be accessible in secondary education. Overall, Shannon is committed and excited in using her experience at SF State as a foundation to support students in her role on campus.
Emmanuel Padilla joins us after 5 years of working at UCSF's Center for Science, Education and Outreach (a department under the office of diversity and outreach). Prior to UCSF, he was in the classroom for three years, and worked for UC Davis providing college outreach to Sacramento.  Emmanuel was the first in his family to go to college and is driven to provide access to students who share a similar, yet unique story. A native San Franciscan, Emmanuel fuels his drive by creating connections, trust, and accountability with students, colleagues, and the community. Emmanuel loves to use humor with everyone to create safe spaces and allow folks to be folks.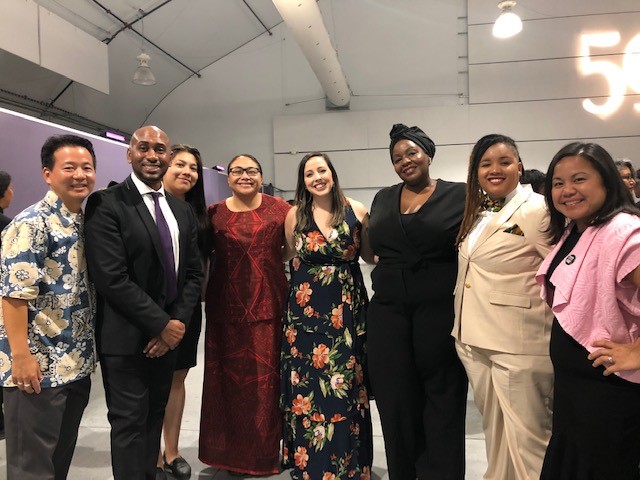 Equity & Community Inclusion at the Ethnic Studies Gala. Fall 2019.